Best rates in the market guaranteed, No hidden charges or fees, Try us for 90 days with no contracts or cancellation fees.
Advance your business potential with a winning combination of payment technologies and services. All Business Solutions have a complete point of sale system that includes the hardware, software and ongoing support at an affordable cost. Perfect for restaurants, retail merchants, liquor stores, salons/spas, convenience stores and more, we'll help you select the All Business Solutions equipment and processing packages best suited for your business!

Features
All Business Solutions includes a number of features designed to benefit any business, including customer management, appointment scheduling, and inventory management. The system also includes cloud backup to help reduce the risk of data loss.
Tableside Ordering – Tableside Payment Processing

Gift cards and customer loyalty tracking – Marketing metrics

Inventory management – Sales reports

Employee tracking & management – Payroll metrics

Quickbooks data export – Windows-based system

High performance. Reliable. Stylish.
Package includes:
All-in-one touchscreen, feature-rich software, thermal printer, cash drawer, barcode scanner, customer display, wireless keyboard/mouse, and semi-integrated EMV-ready device.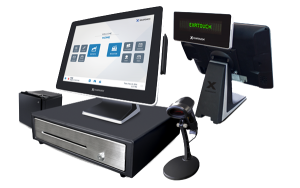 Convenient. User-friendly. Secure.
10″ touchscreen tablet features:
Full software capabilities, complete order entry, table map and multi-zone, front of house management, line busting, and support for EMV.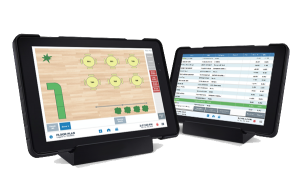 Server station designed to accompany your All Business Solutions POS

Our All Business Solutions Restaurant Bundle is the perfect addition, maximizing operations with:
All-in-one touchscreen, full software capabilities, thermal printer, and complete, convenient order entry for servers!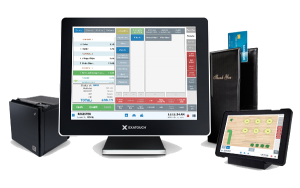 Do you need help with POS Systems? Fill out this form to get in touch.