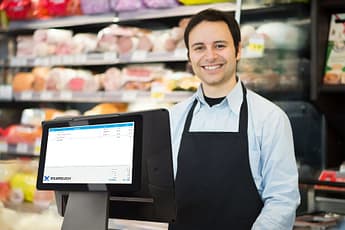 Having a customer–facing display connected to your point-of-sale system is an invaluable asset for businesses. Not only does it help to ensure checkout accuracy, but it also provides a platform for collecting customer data and feedback, as well as enabling simple loyalty programs.
The most obvious benefit of a customer–facing display is accuracy. Having a visible display for customers to view each step of the transaction helps to ensure that all details are correct. This is especially important for businesses that process a large number of transactions, as it eliminates the possibility of errors and reduces the time spent on each transaction. Additionally, it allows customers to see what items have been added or removed from their order, which can make them feel more secure and in control of their purchase.
By connecting the customer-facing display to a point-of-sale system, businesses can also use it to collect customer data and feedback. This data can be used to gain insights into customer shopping behavior, preferences, and trends. This information can then be used to personalize the customer experience, increase customer loyalty, and ultimately boost sales.
Finally, a customer-facing display can be used to implement simple loyalty programs. Customers can easily sign up for loyalty programs, track their progress, and redeem rewards right at the checkout. This not only encourages repeat customers but also makes the entire checkout process faster and more efficient.
In conclusion, having a customer-facing display connected to a point-of-sale system is an invaluable tool for businesses. It helps ensure accuracy, collects customer data and feedback, and enables loyalty programs. All of these can drastically improve the customer experience and the bottom line of the business.
Want to find out more? Find our contact information here.